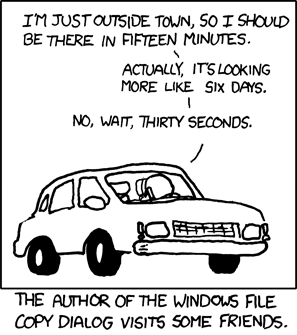 Upon reading my last post, Danielle had two comments to share:
1. Spot on. That's exactly what my text means.
This is disconcerting to me. It's like she already knows the translation is going to occur, so she's perhaps taking that into effect when giving the prediction, causing a constant increase in her lateness factor over time. It's sort of like the old software adage that the project will take 2 weeks longer than you think it will take, even if you know what I just said.
2. You need to discuss lateness percentage as well.
She's absolutely correct, so here it is. Lateness percentage can be both a lifetime and single shot statistic, and is calculated simply as the percentage late one is of the total time before the predicted event was to occur. For example, yesterday's "I'll be home by 5pm for sure" text was sent at 3:30, and Danielle got home at 6pm. So she had 90 minutes to achieve her prediction, and missed by 60, for a lateness percentage of 66.6. Obviously this is a very impressive number, one that is quite difficult to achieve in many cases (such a number would require being several hours late for a simple dinner date). Obviously some players will do better in short predictions than others, but in general the shorter the time frame the larger percentages can come into play, but in general anything over 50 is "pretty freaking late".